Posts for tag: crown lengthening
By D Casey Hart DDS
May 14, 2021
If you are unhappy with certain aspects of your smile, cosmetic dentistry could be the solution. Numerous treatments and services are available for addressing various cosmetic concerns, such as stained or chipped teeth. Cosmetic dentistry can give you a complete smile makeover. Dr. Casey Hart, the skilled dentist at our office in Marietta, GA, can recommend specific procedures to help you achieve the smile of your dreams.
How Cosmetic Dentistry Can Help
Cosmetic dentistry can do so much to enhance your smile. A wide range of treatments and services are available for addressing many types of cosmetic issues, including:
A dull smile
Stained or discolored teeth
Crooked or oddly-shaped teeth
Chipped or cracked teeth
Crowded or overlapping teeth
Excess spacing between teeth
A gummy smile
Cosmetic Dentistry Treatments & Services
We offer many different cosmetic dentistry services at our office in Marietta, GA. Our experienced dentist can help you decide which treatments are right for you based on your specific smile concerns. Examples of the cosmetic dentistry services we provide include:
Bonding — Cosmetic bonding is a highly effective method for repairing chipped or cracked teeth. A tooth-colored resin material is applied to the damaged area. For example, it can be used to fill in the portion of a tooth that chipped off. A special light is used to cure the resin, which becomes permanently bonded to the tooth. Once it is completely dry, the resin looks just like part of the tooth and the imperfection will no longer be visible.
Porcelain Veneers — Veneers are thin tooth-like covers applied to the front surface of teeth with cosmetic issues to improve their appearance. They give teeth that are chipped, cracked, discolored or oddly shaped a flawless new appearance. Each veneer is custom-made to look completely natural and fit perfectly. Additionally, the porcelain used to create veneers closely resembles the look of tooth enamel.
Teeth Whitening— This is a treatment for brightening dull teeth and removing certain types of stains and discolorations. Professional teeth whitening is the fastest and safest way to achieve a whiter smile. A single treatment can whiten teeth by up to eight shades with results that last for up to five years.
Contouring and Reshaping — This is a procedure for giving oddly-shaped teeth a more pleasing appearance or for creating more space between crowded or overlapping teeth. Teeth are contoured and reshaped by gently removing small portions of the enamel to achieve the desired look.
Crown Lengthening —This is a procedure for treating gummy smiles, in which the teeth are partially covered by excess gum tissue. The procedure involves reshaping or removing excess gum tissue so more of the teeth are exposed.
Cosmetic dentistry services can deliver the smile you've always wanted. To discover what cosmetic dentistry can do for your smile, schedule a consultation with Dr. Hart, your knowledgeable dentist, by calling our office in Marietta, GA, at (770) 926-8371.
By D Casey Hart DDS
April 15, 2018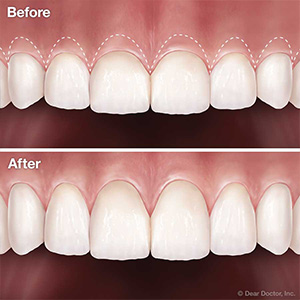 While we often associate tooth decay with cavities forming in a tooth's visible or biting surfaces, the occurrence of this all too common disease isn't limited to those areas. Cavities can develop in any part of a tooth exposed to bacteria.
Gum recession, the shrinking back of the gums from the teeth, can cause such exposure in areas normally covered by the gums. Because these areas are usually more vulnerable to infection when exposed, cavities can develop at or right below the gum line. Because of their location it can be difficult to fill them or perform other treatments.
One way to make it less difficult is to perform a crown lengthening procedure. While the term sounds like we're increasing the size of the tooth, we're actually surgically altering the gums to access more of the affected tooth surface for treatment. It's typically performed in a dental office with local anesthesia by a general dentist or a periodontist, a specialist in the gums.
During the procedure, the dentist starts by making small incisions in the gums to create a tissue "flap" that can be lifted out of the way. This exposes the underlying bone, which they then reshape to support the gum tissue once it's re-situated in its new position. The dentist then sutures the gums back in place. Once the gums heal, the decayed area is ready for treatment.
Crown lengthening is also useful for other situations besides treating cavities. If a tooth has broken off at the gum line, for example, there may not be enough remaining structure to support a crown. Crown lengthening can make more of the underlying tooth available for the crown to "grab" onto. It's also useful in some cases of "gummy smiles," in which too much of the gum tissue is visible in proportion to the tooth size.
Because crown lengthening often involves removing some of the bone and is thus irreversible, you should discuss this procedure with your dentist in depth beforehand. It could be, though, this minor procedure might make it easier to preserve your teeth and even make them look more attractive.
If you would like more information on crown lengthening, please contact us or schedule an appointment for a consultation.